Flu Vaccine Update
Dear Paoli Family Medicine patients,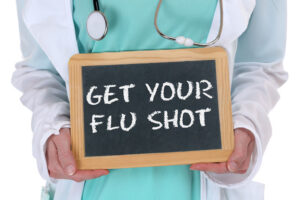 It is almost time to get your annual flu vaccine!  In order to limit the number of people in our office during the COVID19 pandemic, we will be scheduling flu vaccines on Saturdays this season (rather than our usual Tuesdays-Thursdays).  We will still be offering flu vaccines at our in-office appointments starting in September as usual.
For patients that do not have an appointment during this time, we will be offering SCHEDULED-ONLY flu vaccine appointments from 8am to 12pm on Saturdays, starting September 12th and continuing every Saturday through at least October 31st.
Please call our office at 610-644-8069 to schedule your flu vaccine appointment.
The same requirements apply to these appointments as to any other – you will need to be healthy, have no symptoms of COVID19 (fever, cough, shortness of breath, etc), no known contact with anyone who has tested positive in the past 2 weeks, not be awaiting COVID19 test results of your own, or have traveled within the past 2 weeks to any states on the Pennsylvania travel restriction list at that time.
We look forward to seeing you for your flu vaccine this fall!